The showbiz world is bizarre and unexpected. Celebrities have been known to go to dizzying lengths to catch the public's attention and give the crowd' good show. Nowadays, this has become so much easier for them with the arrival of social media. One cryptic tweet or image from them and their fans are left speculating what it means. Have they broken up? Are they fighting? Are they friends again? Is this just a publicity stunt? No question is too far-fetched.
That's the thing about living in the spotlight is that someone is always watching. While this provides constant fodder for rumors and gossip-mills, it also leads to some truly weird stories about celebrities. It isn't surprising that most of such stories have an anonymous 'source' dishing out the dirty details regarding these celebrities. While the information might or might not be true, most of the times, the damage is already done to the image of the celebrity. In the rush for an exclusive, no rules are followed. However, another golden rule that underpins all this is...
'All publicity is good publicity'.
While celebrity antics continue to catch the attention of the public, every once in a while, a few headlines stand out from the rest. Let's take a look at some of the weirdest and most bizarre headlines that have come up in 2018 so far.
15

Katy Perry Nearly Missed Met Gala After Old, Classic Car Stalled
The show-stopping outfit that Katy Perry wore to the Met Gala this year almost didn't make it to the museum. According to TMZ, the car she was traveling in gave her trouble on the way to the Gala. She had grand plans to travel and arrive in style - parading through the city in an open car in NYC. But, her 1930's-style transport had other plans.
About a block away from the Metropolitan Museum of Art, the car refused to start.
In the video with TMZ, the look on the face of the driver is indistinguishable, as he tried to turn on the car in vain. Throughout the video, Katy has a wide smile on her face and even laughs when the car doesn't start. She can be seen enjoying and engaging with her fans. However, after a few attempts, the engine roars to life and the massive crowd that has gathered cheers her on.
Considering her choice of dressing up as the fallen angel, and the oversized wings, it would have been a lot of effort to walk up to the Gala. Once at the venue, she posed happily for the shutterbugs and lived up to the expectations of making unforgettable fashion choices.
14

Kourtney Kardashian's House Is Infested With Tarantulas - And It's Mating Season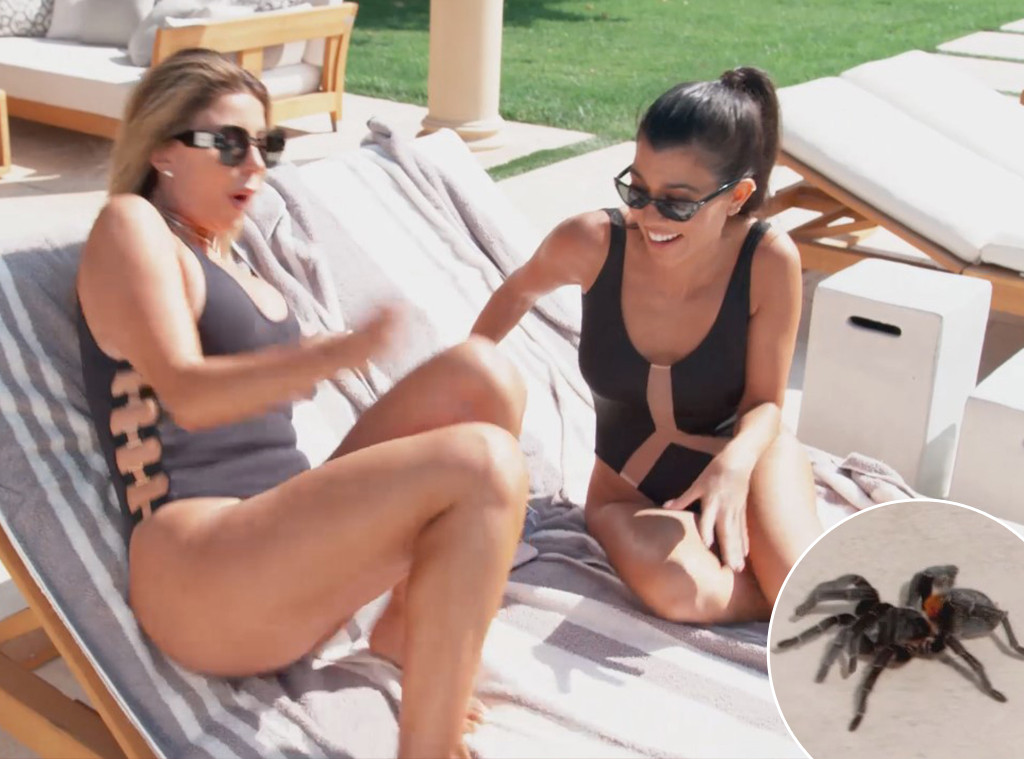 Now to be fair, tarantulas would definitely freak anyone out. But Kourtney and her friend displayed a rather extreme reaction to these eight-legged creatures. Back in February, an episode of Keeping Up With The Kardashians showed Kourtney and her friend Larsa Pippen lazing around in the sun, and then totally freaking out when spotting a huge black spider nearby. Kourtney said that the exterminator had already fumigated the place twice, and the spiders just refuse to leave their abode despite every trick they tried.
Toofab.com revealed that on calling the pest control company, Kourtney was told that since it is the mating season, the arthropods might just overstay their welcome. While Kourtney is visibly upset and declares she will not be able to sleep at night, another spider appears.
Pippen states that Kourtney's house in the "wild, wild west" is not for her.
Kourtney says, "I just don't even know what to do. I swear we're outside like 50 percent of the time and I've already had the exterminator come out and spray. I just won't be able to sleep at night. I will not feel comfortable until these tarantulas are completely gone." We hope you've been able to get rid of the spiders and are sleeping like a baby, Kourtney.
13

Jennifer Lawrence Hides A Pizza Stain On Her Red Carpet Dress 
Who doesn't love a slice of cheesy pizza? It would be safe to assume that the answer to this question will never be Jennifer Lawrence. Although she never missed a chance to declare her unwavering and undying love for pizza, she took it to another level recently. According to Page Six, the dress Jennifer wore for the opening of Derby Week at Churchill Downs had a huge pizza stain on the left thigh.
The source says, "She actually forgot the Dolce & Gabbana dress that she was going to wear for the opening of Derby Week at Churchill Downs in New York City. She had to have her dress flown down via private jet, just to learn it had a pizza stain on it!" With a swarm of paparazzi, the stain would obviously have become a talking point and given birth to countless other JLaw and pizza memes.
However, Jennifer and her team played smart. They paired the dress with an orange clutch which Jennifer used to cover the stain. "She did her best to conceal her pizza stain with her clutch the whole evening, but laughed about it as she walked the orange carpet," the source added. Good work, Jen!
12

Meghan Markle's Former Psychic Saw London In Her Future Before Prince Harry
Here's a story that was written in the stars and foreseen in a crystal ball! TMZ.com  revealed that Meghan Markle's former psychic is claiming to have predicted the importance of London in her life - even before she had met Prince Harry!
Richard Win, Meghan's psychic, explains that the last session he took with her was months before the pair had actually met and he had foretold how critical a role Great Britain will play in her life. According to TMZ, what he told her was, "I see you in London with a lot of British people".
To this, he claims, she responded, "I love London ... I love British people."
Now that's a story worth telling the royal children, isn't it?
He goes on to add that at the time they had this particular session, she was seeing someone else, and after meeting Harry, Meghan made it a point to tell Richard that she had met someone from England. Adding his personal opinion, Richard notes that Meghan is an intelligent and poised woman, who wouldn't do something like this for fame. He says he is very happy that the couple is together. What a jolly good fellow!
11

Elvis Presley's Old Paper Cup Sold For Over $3k
A paper cup once used by Elvis Presley over sixty years ago was auctioned for over 3 grand in January this year, says TMZ. In 1956, at a tour stop in Tulsa, Elvis reportedly used the paper cup and a fan somehow got his/her hands on it. The vintage paper cup that was used by the King of Rock & Roll was sold at $3,300. Reportedly, the individual who placed the winning bid owns the Icon Hotel in Luton, England. TMZ had also earlier reported that the seller was trying to sell the cup for about a thousand dollars.
Now, icons in the entertainment industry are known to generate a lot of money even after their death. Royalties, merchandise sales, licenses, album sales - there are a lot of ways for musicians especially to ensure that their legacy remains profitable until the end of days.
All of this, simply because the fandom never dies with the star. Hence, eliciting a bid of over three thousand dollars for a used, dilapidated and folded paper cup, actually might not be the weirdest thing after all. We'd still say, it's a pretty expensive cup, considering the buyer will never even drink out of it!
10

 Brody Jenner Puts Foot And Drink In His Mouth
Brody Jenner did what!? To put it simply, he took off his shoe, poured beer into it and drank it. Now that's a really weird thing to do and it's even weirder that someone found it a newsworthy event!
According to TMZ, Brody has been seen sipping beer from the comfort of his shoe, on more than one occasion. One time, Brody was at The Groove Cruise in Miami when he indulged in shoe-beer, and also encouraged DJ Thomas Jack to join in. TMZ says, "DJ TJ declined for obvious reasons, but Jenner wasn't having it and kept pestering him to take a sip. When that didn't work, he talked smack about Jack's profession ... and continued drinking his foot beer."
He also has several videos of himself drinking beer from shoes while traveling on airplanes.
These don't appear to be just promotional videos, but Brody can be seen actually relishing the shoe-drink.
Now, the entire Jenner-Kardashian clan has some pretty exquisite tastes, but this is entirely unheard of. Who knows, maybe Brody believes it accentuates the taste or flavor of the beer? Or maybe he read somewhere that doing this has health benefits. But we now know for sure that this is one celebrity with whom we're never going to share a drink with!
9

Taylor Swift Bank Robber Says...LOOK WHAT YOU MADE ME DO!
Die-hard fans trying to impress the celebrities they are obsessed with is nothing new. However, Taylor Swift's fandom is not your average kind, and hence, it is only fitting that her fan did something really outrageous. According to TMZ, in the first week of April, a man named Bruce Rowley reportedly confessed to robbing a bank. Rowley has a massive crush on Taylor Swift. In his confession, he stated that he robbed a bank, drove over to Taylor's house, threw some of the money over the fence - all this in the hopes of creating an impression. According to his own admission, he planned to donate some of the money, thinking this would impress her.
The cops stated that Rowley went to a bank and demanded money without threatening or coercion, and was successful in getting the same. Even his arrest was a stuff of movies - he led the cops on a chase from the Rhode Island to Connecticut. However, his massive crush didn't save him from being booked for robbery in the second degree and larceny in the fourth degree. Of all the things Swifties have done for their favorite singer, this one surely can be a serious contender for the top position.
8

Katy Perry Tries And Fails To Sing As High As Mariah Carey On American Idol
It's official - Katy Perry cannot pull off a Mariah Carey. In the American Idol reboot this year, when a contestant declares his inspiration as Mariah Carey and explains her ability to imitate Carey's famous 'whistle tones', Perry attempts to do the same. Katy Perry has been at the forefront of the American Idol revival, right up to the details about how much she is being paid for giving a young singer his first kiss.
Here's what went down: a contestant told judges Katy Perry, Luke Bryan, and Lionel Richie that she is inspired by iconic chart-topper Mariah Carey. She further explained that she has trained herself to sing in 'whistle tones', the unbelievably high-pitched tone that Mariah often sang in, and sang it well.
With the exception of Katy, the other two judges do not immediately understand what a 'whistle tone' is, and the contestant offers to demonstrate it with Katy.
That's when things start to go south. Katy gives it a shot but ends up shrieking.
She admits defeat and says, "I can't do a whistle tone." The contestant who started it all tried her hand at whistle tones and actually managed to impress the judges with her vocal range.
7

The Understandable Reason Why Kylie Jenner Regrets Naming Her Baby 'Stormi'
Practically the entire world waited with its breath-held for Kylie to name her baby. Now the name 'Stormi' sure evoked a bit of a polarized reaction from fans. But now even Kylie is regretting choosing the name Stormi. Right around the time when Kylie announced the birth and name of her daughter, another 'Stormy' was dominating the headlines.
However, this 'Stormy' is Stormy Daniels, the star in the "other" film industry. Radar Online says that Kylie's mother, Kris, had suggested the name and they zeroed in on it before the news cycle focussed on Stormy Daniels.
A source on the website explains why this is such a big deal, "Kris Jenner thought the name 'Stormi' was cute for Kylie's baby back in February when she was born, but now she hates it!... Names are a huge thing in the Kardashian-Jenner family. They wait weeks to release the names of their babies so they can run to the copyright office and protect it for future licensing deals." If it's any consolation, Kylie, by the time baby Stormi will grow up, the Stormy Daniels headlines will be history.
6

Serena Williams Is Being Slammed For Her Eyebrows
Living in the spotlight isn't easy. Celebrities are under constant scrutiny and looking picture-perfect at all times is a deal they must make with the devil. Oftentimes, fans often criticize stars when they step out casually without looking their very best.
Serena Williams realized just how cruel the internet can be when she posted a random picture of her daughter on social media. In the no makeup look, Serena was particularly criticized for her natural eyebrows, the Revelist reported.
According to stylecaster.com, at the beginning of May, "the 36-year-old athlete took to [social media] to share an adorable picture of her and her 8-month-old daughter, Alexis Olympia Ohanian Jr., hanging out in their kitchen." The picture evoked some less than kind comments from others who unfortunately missed the focus being on her adorable baby girl. The comments suggested that being a multi-millionaire, Serena must get her eyebrows 'retouched'.
However, many of her fans jumped to her rescue, claiming that keeping it real is the way to go.
Fashion editorial and comments also praised her for being natural and not setting unrealistic expectations for new mothers. Williams had posted the picture to promote an upcoming HBO documentary 'Being Serena' and captioned it "Mama bear and baby cub".
5

Beyoncé Reportedly Got Her Hair Stuck In A SoulCycle Bike While Working Out
According to StyleCaster, Beyonce is scared of attending SoulCycle after her hair was caught in one of the wheels.
As per the report, she had started the sessions with her rapper husband Jay-Z to gear up for Coachella 2018. It was also going well, and Beyonce had become rather fond of it, spending a lot of time in the sessions, until an unfortunate incident took place wherein her hair got stuck in one of the wheels. The source in the story says that because of her hair extensions, she hadn't tied them properly, as a result of which they entangled with the wheels. Although the accident only damaged the extensions, Beyonce was scared enough to not have another go at it. Going at the speed at which those things go, we wouldn't blame her for being scared.
However, just a few days later, TMZ reported that the story was a figment of someone's imagination because it never happened. Nonetheless, the damage was already done and the fact that it made it to this list proves just how ridiculous it sounds. SoulCycle was getting a lot of popularity due to Beyonce, but now after this incident, people with hair extensions are going to have a second thought about that one.
4

Rihanna Wore The Most Extra, Feather-Lined Outfit To Go To The Dentist
Walking the red carpet in the finest has been the norm, but going to the dentist in an over-the-top outfit isn't exactly a thing. But then again, when has Rihanna followed rules? According to Just Jared, the Barbadian singer went to a teeth cleaning and dental check-up in a feather-lined dress.
It had all the elements of her diva persona: ripped jeans, clear sandals, white lace camisole, marbled pink coat, and a feather-boa-like collar. Add to that blue sunglasses, magenta lipstick, denim mini skirt worn as a top.
The end result: Rihanna in her purest form.
Sure, it isn't the first pick for going to the dentist, but who cares as long as Rihanna can make heads turn, right? Rihanna is known for her whacky, out-of-this-world fashion choices and this happens to be no exception. This look was under the spotlight because it happened right before the famous Met Gala - which is like an annual fashion splash for Rihanna. She didn't disappoint there as well when she turned up dressed as the Pope on the red carpet - sending the photographers in a tizzy. She is indeed one person who knows how to turn heads anywhere she turns up!
3

My Big Fat Greek Wedding' Mom Lainie Kazan In Shoplifting Case
According to E Online Lainie Kazan, best known for playing the mother in 'My Big Fat Greek Wedding', was caught shoplifting on Christmas Eve last year and was all over the news earlier this year when the store claimed that this wasn't the first time she had pulled it off. Law enforcement officers said that she went to a Gelson's in the San Fernando Valley on Christmas Eve and put groceries worth $180 in her cart. She then proceeded to put it in several bags and walked towards her car.
When caught, she said she had no money to make the purchase. She was arrested for petty theft, handcuffed and taken to the station. Later she was released without bail. According to the latest update in the story, she has reached a deal to avoid going to the jail. Instead, she will attend a support group for petty thieves by participating in the Neighborhood Justice Program.
Criminal charges will not be filed if she successfully completes the program. While many people living in the limelight have fallen from grace, not many have been able to redeem themselves. Let's hope it's different for Lainie.
2

Paris Hilton Protecting Her Rock, Around The Clock
Paris Hilton loves her fiance Chris Zylka, and also the engagement ring he proposed with.
So much so, that she has hired full-time bodyguards to give the reportedly $2 million engagement ring, 24/7 protection.
The world watched with envy when Chris proposed to Paris with a huge and shiny rock recently. However, the downside of such an expensive ring is having to look after it. The couple has offloaded the headache and hired security guards to follow them all the time, to protect the ring. According to TMZ, Paris advocated hiring extra security considering a slew of celebrity burglaries that are being reported. Paris' aunt Kyle Richard was also reportedly robbed of her jewelry, and her former friend, Kim Kardashian was burgled. More recently, Rihanna's house was also broken into.
Sources in the report added that the guards shadowing the couple are in regular clothes, so as to not attract extra attention and make it obvious. Paris is known for having a taste for all things rich and it only makes sense that she guards her treasures. And when it comes to something as important as an engagement ring, she can definitely splurge.
1

Beyoncé's 6-Year-Old Daughter, Blue Ivy, Has Her Own Stylist And Personal Shopper
Being born in the family of Beyonce and Jay-Z certainly has its benefits. Consider this: Blue Ivy Carter, the first daughter of the couple, has a wardrobe full of designer dresses and accessories. What's more, she has a personal professional stylist and a personal shopper to help her with such important decisions, says Style Caster.
Manuel A. Mendez is reportedly Blue Ivy's stylist and the brain behind most of the headline-grabbing dresses Blue Ivy has adorned to date. While Mendez's association with the power couple is well known, other details about his career and his involvement in the lives of Rumi and Sir (Ivy's younger twin siblings) remain unknown to the public. However, one can expect that more stylists and shoppers will be brought onboard once the adorable twins grow up as well.
No wonder Blue Ivy has been stealing the thunder (even from her iconic mother) at every event she turns up. She also recently bid nearly $20,000 on a piece of art, owns a $600,000 gold rocking horse and insists that all her staff wears a tuxedo, according to the OK! Magazine. Being jealous of a six-year-old isn't impossible, and Blue Ivy Carter is living, breathing proof.
References: TMZ, toofab.com, stylecaster.com, eonline.com, pagesix.com, radaronline.com, justjared.com