The holidays are HERE, and that can mean panic mode for people who still have gifts to buy. When stress sets in the logical choice is to give a gift card or cash, but that does not have to be the only option, especially for your cherished girlfriends.
Not only are there ideas out there for excellent last-minute gifts, but these items won't break the bank either. Just because a present is being purchased at the 11th hour doesn't mean a person has to pay crazy high prices.
Here are 9 fantastic last-minute gift ideas that are not only better than cash but also affordable.
Tea Story: A Tea Lover's Giftset
This gift set includes 80 different bags of tea that any tea lover can enjoy until well after the holiday season. English Breakfast Black Tea, French Vanilla Black Tea, and Lemon Honey Green Tea are few examples of the eight flavors featured in the box set. Plus, the teas arrive in a beautiful book inspiring package that will look fabulous on any coffee table. The price is right at only $29.99, and it can be found on Amazon, which means with two days shipping the item will be here before the holidays (or if you're really shopping last minute, you can always give this gift at your post-Christmas holiday gathering).
Fresh Masks By Olay
[caption id="" align="alignnone" width="2000"]
Via Olay[/caption]
These Olay Facial Mask sticks are perfect for anyone who loves to pamper themselves. Since these masks come in a stick, they roll onto the face nice and smooth, preventing any mess. There are three different choices, Pore Detox Black Charcoal, Pink Mineral Complex, Fresh Reset and, Glow Boost White Charcoal. All three can be purchased in a bundle for $30 or individually for $10 on Amazon.
Personalized Wine Bottle
Personal Wine helps customers create a one of a kind wine bottles, which is not only good for wine lovers but those that like presents with a personal touch. The company has a slew of wines to choose from so that even the pickiest wine drinker will have a choice. Then it the gift giver can choose to upload a photo, have a bottle monogrammed or even have it say a personalized message. The options are endless, and the Personal Wine website is super fun to browse for ideas. Price varies depending on the type of wine chosen, but most orders are under $50, including the personalized message.
Harper Crossbody Handbags
[caption id="" align="alignnone" width="1500"]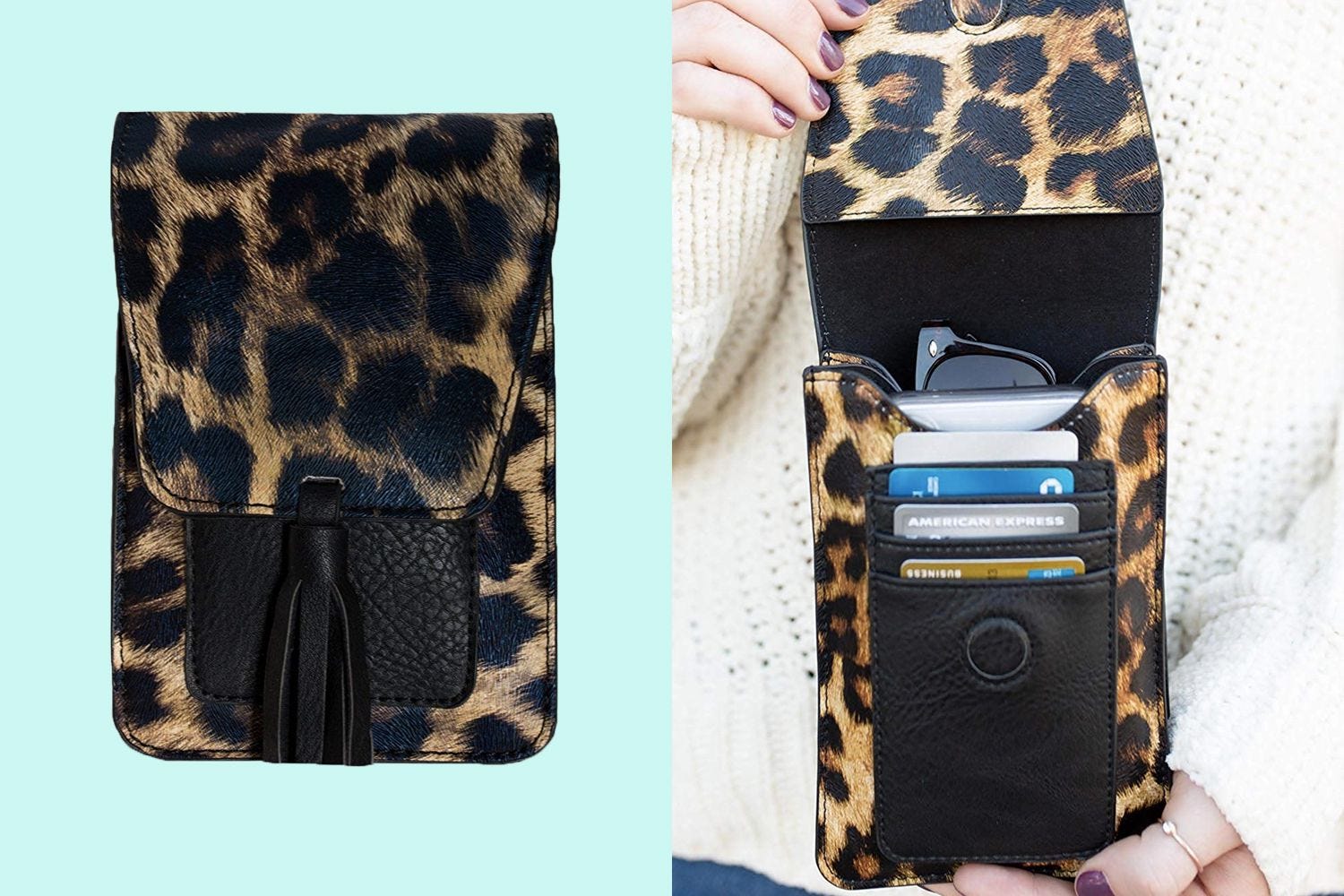 Via Good Housekeeping[/caption]
These beautiful handbags made Oprah's list of favorite things for 2018, which means the gift is an excellent idea. If it is good enough for Oprah, then it is good enough for anyone else. These little bags are perfect for carrying a smartphone, glasses, and credit cards since the bag has a designated compartment for each. Plus, the crossbody strap makes wearing the purse comfortable and secure. These handbags come in a plethora of colors and designs for only $20 on Amazon.
Electric Car Blanket
[caption id="" align="alignnone" width="500"]
Via Amazon[/caption]
An electric car blanket is a practical gift for anyone who has to drive during the winter. Those frigid commutes can be a bear, but nothing makes a person feel cozy like a heated blanket. It easily plugs into a 12-volt port and can be used in the front or back seat. Honestly, this is an excellent gift that is useful on a daily basis but can also be lifesaving in case of an emergency. The blanket comes in four different colors. It is the perfect gift for people of all ages and is on sale now for $38 on Amazon.
 Play! By Sephora
[caption id="" align="alignnone" width="1280"]
Via Izamar Rosas[/caption]
This subscription box would be any beauty and skincare lover's dream present. It takes the guesswork out of finding the perfect products since the receiver of the gift gets new products each month. The box will contain five new items, a collectible makeup bag, a how-to-video, Play Pas to redeem points at Sephora and online, as well as Play Book which includes various beauty and makeup tips. It costs $10 per month for a year subscription, but it is well worth the overall $100 price for the year.
BeatsX Earphones
[caption id="" align="alignnone" width="780"]
Via Cult Of Mac[/caption]
These BeatsX earphones are long lasting and on sale. They are one of higher priced items on the list at $100, on Amazon but they are an investment. Any athlete or person who workouts significantly will appreciate these earphones because they have up to eight hours of battery life and are lightweight. Plus, people can take calls, control music and even activate Siri through these earphones. It is hard to find a good pair of, but BeatsX is making it much easier.
Blue Bottle Coffee Subscription
[caption id="" align="alignnone" width="1024"]
Via Washington Post[/caption]
Coffer lovers will appreciate this subscription that allows them to various blends from the company. Depending on how many coffee drinkers are in the household the that is receiving the gift, the giver can choose from a half a bag to three bags being delivered at once. Subscriptions options include three-months for a total of $72 and six-months for $144. All subscriptions can be ordered through the Blue Bottle Coffee website. Shipments are received every other week and are whole bean coffee, not ground.
Surprise Lottery Scratch Off Ticket
[caption id="" align="alignnone" width="900"]
Via Free Lotto[/caption]
Lottery tickets are one of the best gifts around but are rarely given. They have a stigma of being not cool or cheap, but honestly, they are neither. There are so many different types of scratch-off tickets that people love to play them. The idea of winning money makes everyone happy. Plus, the amount given is up to what the giver can afford since tickets range from $2-$20. This time of year the lottery puts out individual holiday tickets, so the gift still encompasses the festive season.
If you have any last minute holiday gift ideas that you love, feel free to share them with us, and happy gifting!
NEXT: ONE OF THESE LIP BALMS IS SOLD EVERY SECOND
WWE Superstar Natalya Reveals Her Thoughts On Nikki Bella's Relationship With Artem Chigvintsev