The Kardashian name is one of the most famous in the world and it all started when Kristen Mary Houghton met Robert Kardashian. Without this meeting, we wouldn't have Keeping Up with the Kardashians, we wouldn't have Kimye, we wouldn't have Scott Disick,  and, perhaps most importantly, we wouldn't have the app game Kim Kardashian Takes Hollywood. Kris and Robert fell in love and got married in 1978 then had four children, Kourtney, Kim, Khloe, and Rob. Though Kris and Robert got divorced in 1991, Jenner was already a rich and well-known socialite in Los Angeles. When Robert gained national recognition for his involvement in the 1995 O.J. Simpson murder trial, the Kardashian name gained even more notoriety. But by then, Kris had already gotten remarried to Caitlyn Jenner (who went by the name Bruce Jenner at the time before her transition). The couple went on to have two children, Kendall and Kylie.
RELATED: Photos Of The Kardashians Before They Were Famous
For years there was a rumor that Kim Kardashian was actually Paris Hilton's assistant but this is not actually true. In reality, Kim was the heiress' closet organizer--because you need that kind of thing when you have millions of dollars worth of clothing and accessories. Though Kim was already a fairly well-known socialite in Los Angeles, she wanted more. So she followed in Paris' footsteps and "accidentally" leaked an infamous tape which launched her into stardom. KUWTK has made "Kardashian" a household name and the Kardashians and Jenners are more famous now than they've ever been--and they owe it all to Kim.
However, there was a time when the Kardashians and Jenners and the people in their circle weren't famous. These are the photos they don't want you to see--and the secrets they don't want you to know about!
25

How it All Began
It's true that the Kardashian name became famous during the O.J. Simpson trial but it also tore the family apart. Half of the Kardashian/Jenner family believed that O.J. did commit murder and the other half didn't. In a strange turn of events, Kim Kardashian went on the Tyra Banks show to promote her brand new reality TV show Keeping Up with the Kardashians on the same exact day that Simpson carried out an armed robbery in Las Vegas which led to a 33-year prison sentence (which was only partially served). Apparently Simpson caught a glimpse of the interview and laughed when Kim said that her father was an "instrumental member" of his legal team and said he didn't see KUWTK lasting "more than 2 weeks". They sure proved him wrong!
24

Kim's Simple Life
At one point in time, Heidi from The Hills was actually more famous than Kim Kardashian. In 2007, right around the time Kim and Ray J's tape was leaked, Kim used her connection to her stepbrother Brody Jenner to get on The Hills.
She was featured in several scenes in the second season, including Heidi Montag and Spencer Pratt's housewarming party and in a few scenes where she was organizing Heidi's closet--yes, Kim Kardashian actually cleaned Heidi Montag's closet. 2007 was wild.
However, all of the scenes were cut and never appeared on the show. These scenes were discovered years later and we all know that Kim wants them to disappear! Spencer Pratt claims that Kris Jenner once asked him to be Kim's manager (they knew Spencer through his good friend Brody Jenner) but he turned her down. He says he regrets it now. That's understandable.
RELATED: Facts You Didn't Know About The Kardashians
23

Babies Having Babies
It's hard to believe it after looking at these photos but, in 2017, Kylie was the 59th-highest-paid celeb of the year, according to Forbes, and she was the youngest person on the list at 19. When KUWTK first aired, Kylie was only 10 years old. She was only 15 when she collaborated with her sister Kendall to create their own line "Kendall & Kylie" for PacSun, she was 17 when she released her sci-fi YA novel, Rebels: City of Indra, which was co-written by her sister and, of course, a ghostwriter. In 2016, Kylie started Kylie Cosmetics which eventually turned into a $420 million empire. Of course, in order to become the queen of lip kits, she had to get some serious lip injections. Kylie made headlines again when she and her boyfriend Travis Scott welcomed their daughter Stormi Webster in February of this year. A lot has happened in just two decades!
22

Kim's Famous Friends
Before Kim Kardashian, because internationally famous, she was fairly well-known among the Los Angeles crowd in the early to mid-2000s. She was a "personal closet organizer" for Paris Hilton and even appeared in a few episodes of The Simple Life. In Kim's first televised interview, she said that she hoped one day to "have her own show" that focused on not just her life but also her "closet business". Little did she know that she wouldn't need that closet business in a few years. Among her many famous clients, she worked for Nicole Richie, Lindsay Lohan, Cindy Crawford, Serena Williams, Rob Lowe, and Brandy (which was how she eventually met Ray J). The rest is history. By this point, she had already met Kanye West but they didn't connect until they filmed a show together.
21

Kim Met Kanye 11 Years Before They Married
Kim had known Kanye West for years before they eventually got married. The two first met in 2003 but they "first really connected" when they filmed a clip for the pilot of Kanye's puppet TV show, Alligator Boots, where she dressed up as Princess Leia (it should be noted that she was wearing the Leia buns and the slave Leia bikini which are part of two different costumes an two different Star Wars movies). Kanye, on the other hand, was dressed as a stormtrooper and he and Kim were serenaded by a puppet. If you watch the video, you can tell that the two have chemistry and we know now that Kanye had a little crush on her when they first met years ago but she was still dating Ray J at the time. The two did not officially come together until 2012 and were married in 2014--11 years after they first met.
20

Kendall is the Tomboy of the Family
Kendall was eleven years old when KUWTK premiered and she is possibly the most reserved of the Kardashion/Jenner clan--she is a Scorpio after all! Kendall's middle name is Nicole in honor of Nicole Brown Simpson who was very good friends with Kris before she was murdered. Kendall and Kylie share eight siblings: Kourtney, Kim, Khloe and Robert Kardashian on their mother's side and Burton, Brandon, Brody and Casey Jenner on her father's side. Kendall started modeling when she was just 14 for Forever 21. A few years later, Kendall modeled for Chanel but didn't even know who Karl Lagerfeld was until after she had already started working for him! She is the self-proclaimed tomboy of the family because she loves classic cars and prefers to not wear a lot of makeup.
19

There are 10 Spin-offs of KUWTK
When KUWTK first premiered, no one thought that it would last very long--including O.J. Simpson! The Kardashian and Jenner clan proved them all wrong and it's now been on the air for over ten years with no sign of stopping. At the time, Kim was fairly well-known and her booty was just as famous as she was! The first line spoken in the pilot episode of KUWTK is "I think she has a little junk in the trunk," which was spoken by Kris and goes on to berate her for eating before a photo shoot. KUWTK has produced ten spin-off shows which have all seen various degrees of success: Kourtney and Kim Take Miami, Kourtney and Kim Take New York, Khloé & Lamar, S*x With Brody, Kourtney and Khloé Take The Hamptons, Dash Dolls, I Am Cait, Revenge Body With Khloe Kardashian, Rob & Chyna and Life of Kylie. In 2017, the Kardashians re-signed with E! Network for $150 million.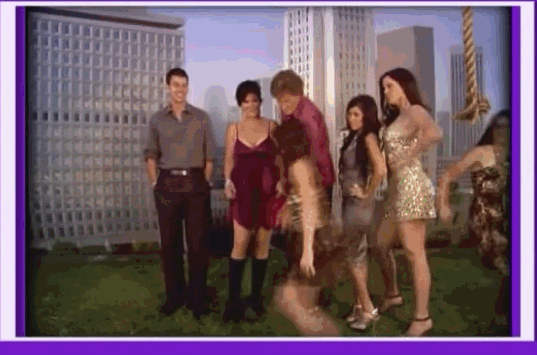 18

Kanye Revolutionized Men's Fashion
Kim may have been married twice before Kanye but Kanye's marriage to Kim was his first. He did, however, get engaged to fashion designer Alexis Phifer in 2006 but they called it off in 2008. It was also in 2008 in which Kanye started dating Amber Rose which lasted until 2010. Finally, in 2012, he started dating Kim and the rest is history. Kanye grew up in Chicago (which is why they named their daughter Chicago) and he was a producer before he became a rapper. When Kanye arrived on the scene as a new rapper with his debut album The College Dropout in 2004, he was wearing baggy jeans, pastel rugby shirts, and Nikes then went on to wear those white-rimmed aviator shades in 2005 and 2006. Now he has his own fashion line which features casual streetwear with subdued earth tones. Somehow Kanye managed to make fashion cool again while also changing men's fashion as a whole.
17

Kim Was Never a Party Girl
With three kids, it's safe to say that Kim is not much of a party girl anymore and she claims that she has never been. She says the reason she is mostly sober is that she was a designated driver when she was a teenager and chauffeured Kourtney around to various parties. That's a lot of responsibility for a 14-year-old! It's also illegal but at least she and Kourtney managed to stay safe! According to Kim, "I felt this responsibility of driving everyone. And everyone would take advantage of me, and I would be the designated driver. And they would literally only have me hang out just to drive everyone home." Though she says she didn't drink much when she was younger, the photo above proves otherwise. Kim definitely lets loose with some Grey Goose at a party in the early 2000s.
16

She Always Wanted to be Famous
According to many people who knew her before she found fame, her goal was to become rich, successful, and, most importantly, famous. Back when Jessica Simpson's name was more well-known than Kim's, Kim went on a date with Nick Lachey soon after his high-profile divorce from Simpson. It turns out that this "date" was just for publicity--at least according to Lachey who said, "We went to a movie. No one followed us there. Somehow, mysteriously, when we left there were 30 photographers waiting outside. There are certain ways to play this game, and some people play it well." This was a sneaky plan but it worked! This "date" caused Kim become more recognized and thanks to her sneaky antics, she has become one of the most famous people in the world.
RELATED: Photos Of The Kardashian-Jenners Looking Basic AF
15

Kim's First Marriage
You probably know about Kim's two highly publicized marriages: Kris Humphries and Kanye West. However, you might not know about Kim's secret first marriage to Damon Thomas. Kim was 19 when she married Thomas, a music producer, in 2000 and he was 10 years her senior! They eloped in Las Vegas in secret and no one in her family even knew she was dating Thomas, let alone marrying him. Her family was devastated to find out that she was married, especially since she kept it a secret for months. Her father refused to speak to her for weeks when he found out that his favorite daughter had gotten married. The marriage actually lasted four years (that's how long she's been married to Kanye!) before they were divorced in 2004. Even though the marriage ended in divorce, it seems like Kim's dad eventually came to like Thomas--at least that's what we can tell from this photo. Also, Kris Humphries only found out that she had been married before on KUWTK and he was completely blindsided.
14

The O.J. Simpson Trial Tore Them Apart
Robert Kardashian died when Kim was 21 years old and though he was close to all of his daughters, he definitely had a favorite. Kris once said that while he knew that he "shouldn't say it out loud", he would say "I'm thankful for all my girls, but especially Kimberly." This was probably because Kim was sensible and mature and also didn't cause trouble like Kourtney and Khloe did. Robert even taught Kim how to drive when she was 14 so she could chauffeur Kourtney to and from parties!
Though multiple family members believed that O.J. Simpson was not guilty of murder, they later said that they only believed that because they never thought that their dad could be wrong. According to Kim: "We just always thought my dad was the smartest person in the world, and he really believed in his friend."
13

Kourtney and Khloe Were Troublemakers
Kourtney and Khloe were both troublemakers when they were teenagers. Khloe once said once stole her mom's car to go to a party and when she went back to get it, she found that it was on fire. She was so wild that she ended up leaving her parents' house when she was 16. When she was in her early twenties, she married Lamar Odom after only knowing him for 30 days and they were divorced in 2016. Now Khloe is known as the most down-to-earth and most fun of all the Kardashian sisters--though she does change her bed sheets every other day. When Kourtney was in her early twenties when she got breast implants but she says now that she regrets it. She said that she looked cute before and as the years went on, she "realized that I was made to look a certain way" and she has "considered removing them."
12

Rob Kardashian's Dream
Rob Kardashian is the black sheep of the Kardashian clan because he just can't seem to make anyone in the family happy. He had two famous girlfriends, Adrienne Bailon and Rita Ora, and both relationships ended with Rob trying to spread nasty rumors about them on social media. Rob was a was a contestant on season 13 of Dancing with the Stars in 2011 and launched Arthur George, his sock line, in 2012. Rob became disillusioned with stardom and Hollywood as a whole and didn't resurface until he began his relationship with Blac Chyna in 2016. The two were engaged just a few months after the met and welcomed their daughter Dream in November of 2016. Their short-lived reality show Rob & Chyna premiered 2016 and was even renewed for a second season but it was canceled after the two announced their split in December of 2016.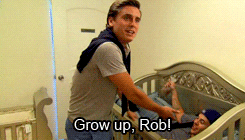 11

Blac Chyna Was Born Angela White
Even though Blac Chyna didn't end up marrying Rob, she is still a part of the Kardashian family because she gave birth to his daughter: Dream Kardashian. Chyna's given name is Angela White but she used the name Dora Renee and Cream as her stage names until she finally settled on Blac Chyna. Some may make fun of Chyna for stripping but she made thousands in a night and even claimed to make $15,000 in a single night--not too shabby! Chyna met Tyga after appearing in one of his music videos and they share a son named King Cairo. However, Tyga left Chyna to be with Kylie Jenner who was underage at the time. Chyna started a relationship with Kylie's brother Rob a few years later and said she fell in love with him and wanted to help him. She didn't really help him but it's not her fault--Rob is just kind of a mess.
10

Kourtney Was the Wild Child
The Kardashian sisters are all very different. Though she was known for being the wild child, Kourtney is the only sister to go to college, graduating from the University of Arizona, with a degree in theatre arts. Her classmates included Nicole Richie and Luke Walton. Kourtney's first job was a movie production assistant and her first stint on a reality TV show was when she appeared on Filthy Rich: Cattle Drive back in 2005. Before they were famous, Kourtney and Kris opened children's clothing boutiques called Smooch in Los Angeles and New York City and in 2008, she opened DASH with Khloe and Kim. Kourtney met Scott Disick in 2006 at a friend's house party in Mexico and they welcomed their first son in 2009. Penelope was born in 2012 and Reign in 2014 before the couple split up in 2015.
RELATED: Times The Kardashians Slept With The Same Men
9

The Kardashian Girls Have Changed A Lot
This photo was taken during the filming of the first season of KUWTK and it was posted on Instagram by Kourtney before it was suddenly taken down. The caption read: "'We went to Mexico for a swimwear shoot while we were filming season one and had a blast. We look like babies here LOL." Of course, Kim wore tons of jeweler because she loves bling. Kim actually owns $65,000 worth of Elizabeth Taylor's jewelry including three of her jade and diamond Lorraine Schwartz bangles! Before Kim puts any of her jewelry on, she actually heats it up with her hairdryer so she won't feel the cold metal against her skin. However, Kim would never be caught wearing such gaudy jewelry nowadays! She now keeps her necklaces very understated and definitely doesn't wear bangles on her arms.
8

Kim Had Her Birthday Party at Neverland Ranch
Another shocking fact about Kim Kardashian: When Kim was 12, her first boyfriend was Michael Jackson's nephew T.J. Jackson and their first date at a McDonald's! Their relationship lasted for almost three years. When Kim turned 14, she had her birthday party at Michael Jackson's Neverland ranch. Kim doesn't talk about T.J. much but she did mention that her birthday party included "baby elephants and chimpanzees in overalls". In Kim's infamous "ex box", she keeps two petals from the flowers T.J. gave her on their one-month anniversary, a McDonald's chicken nuggets box from their first date, and a confidentiality agreement from Michael Jackson. Kim's life was pretty glamorous even before she became famous!
7

Robert Kardashian was Famous For Being O.J. Simpson's Friend
KUWTK wouldn't be here today without Robert Kardashian and it's hard to believe that one of the famous names in the world belonged to a guy who was actually a good friend of O.J. Simpson and supported him during his murder trial. Before he met and married Kris, he actually dated  Priscilla Presley for a year. He met Kris when she was in her early twenties and they were married in 1978 when she was 23. The couple was troubled for many years and it was clear that Kris wasn't fully invested in the relationship especially when Khloe was born--the only blonde child in the family. Still, Robert said that he loved Khloe very much. After Rob was born, Kris became involved with soccer player, Todd Waterman and her marriage with Robert fell apart. They were divorced in 1991--the same year she dropped "Kardashian" and changed it to "Jenner".
6

Kris Was a Flight Attendant Before She Was Married
Kris is the matriarch and "momager" of the family. Though she makes millions of dollars per year, she started out as a flight attendant after she graduated high school. Kris has come a long way since then and she even keeps a pile of non-disclosure agreements in her hallway so that guests can sign them when they enter the house.
Kris has eight grandchildren: Mason, Penelope, Reign, North, Saint, Chicago, Dream, and Stormi. But she doesn't like to be called "grandma". Instead she has her grandchildren call her "Lovey". It was Kris' idea to create the show in the first place and the name was decided on when a producer arrived late to a meeting and apologized by saying, "Sorry, I've been trying to keep up with the Kardashians." The rest is history.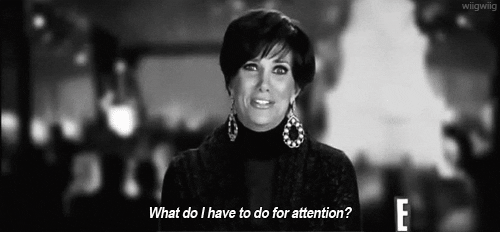 5

Kendall and Kylie Are Very Different
Maybe it's the lifeless eyes of Big Bird but there is something about this image that is creepy and possibly cursed. Kendall and Kylie are close in age but they are very different. Kylie owns her own makeup line while Kendall claims to dislike makeup altogether. Kendall is the tallest daughter of the Kardashian/Jenner clan at 5'10" while Kylie is 5'6". Kylie once said that she wanted to become a model one day while Kendall said she never could because she would never be able to memorize her lines. Kylie said that she wanted to be a mother by the time she was 30 and she just gave birth to her daughter Stormi in February at the age of 20. Kendall, on the other hand, has never expressed any interest in settling down or starting a family anytime soon. The two sisters may be close but they definitely have their own unique qualities.
4

The Only Blonde in the Family
Khloe is the only blonde sibling in the Kardashian/Jenner clan but she began to lose her hair as a child due to stress. When her father died, she began to lose even more of her hair due to the depression and it became so severe that she would wear wigs. When she was a teenager, she was in a serious car accident as a teenager which she rarely talked about. In the accident, she was actually thrown through the windshield and had to be hospitalized. Khloe actually suffered memory loss which wiped out years of her memory and still struggles with short-term memory. In an episode of KUWTK, she even tried hypnotherapy after she couldn't remember years of her childhood. Khloe and Kris both have cross tattoos on their lower back in dedication to Robert. Kris even got drunk and got Kendall and Kylie's names added. She didn't get the names for the names of her four other kids tattooed because she "didn't have space".
3

Kim Was Paid $700k to Take Selfies
Kim has always loved posing for pictures ever since she was a kid--but she wasn't always paid for it! Kim actually gets paid to take selfies with people and these people consider it an investment because a photo with Kim Kardashian can garner hundreds of thousands of new followers on social media thus allowing them to make even more money from sponsored content. Recently, Kim was paid $700,000 to take selfies with guests for a single hour before she was flown away on a private jet. In the photo above, Kim is posing her childhood friend Nikki Lund who went on to be a socialite like Kim as well as a singer-songwriter and designer. She and Kim are still friends and Nikki even invited Kim and Kendall to her baby shower back in 2016. She is also a Libra just like Kim.
2

Scott Disick Never Graduated High School
Scott Disick never graduated high school but he's come a long way since then--he is worth $16 million according to Celebrity Net Worth. He was born into a wealthy family who made a fortune in real estate investing but, somehow, the fortune was lost. Nowadays, however, Scott makes so much money that the "biggest choice of the day" is which wristwatch he should wear. Scott was arrested when he was 18 after he got into an accident and failed a field sobriety test and spent the night in jail. Before Scott met Kourtney in 2006, he was a cover model for Heartland, a young-adult book series, in 2001. After he and Kourtney were together for ten years and had three children together, they split up. He is now dating a teenager, Sofia Richie, at 34 years old.
1

Kylie and Tyga
Kendall actually had Tyga perform at her sweet sixteen and claimed that he was her favorite rapper. Kendall's birthday was featured in an episode of KUWTK where you can see a 14-year-old Kylie dancing to Tyga's performance. To make things even creepier, you can even catch Kylie awkwardly flirting with Tyga at the party! Yikes! Tyga was still with Black Chyna at the time and their son King Cairo was born just a few months later. Little did they know that in just a few years, Tyga would leave his baby mama for Kylie and Rob Kardashian would be engaged to Blac Chyna with baby Dream on the way. Starting in 2014, Kylie and Tyga both said that they were just friends but it's an open secret that they had started dating before she turned 18 which makes their relationship even creepier. Thank goodness she's moved on!
NEXT: Messed-Up Behind-The-Scenes Secrets Of Keeping Up With The Kardashians