Let's be frank. Navigating the modern dating world is like venturing through shark infested waters on a life raft woven from broken dreams. The majority of us have reprioritized dating in favor of our careers, other social obligations and single bliss. Many of us plan to celebrate our singledom with Miss Havisham-style fervor and end our days being fabulous, eternally single cougars, preying on younger men, a la Madonna. Relationships seem like WORK, and we're hustling just to get the bills paid and have a little fun while we're at it. And when we are in relationships, we prefer the thrill of the chase and the fireworks to the long, tedious haul. We'd rather bail on our bae than commit to something that might 'hold us back' or inhibit our freedom and need for personal space the size of the Grand Canyon. We simultaneously want and are terrified of intimacy, and especially in this climate of effortless swiping and thoughtless binning of dates, we're afraid of getting burned ourselves. Relationships are a competition to see who can care the least, and vulnerability is confused with weakness. So maybe it's not SO surprising that celebrities also find dating a b*tch. Still, online dating isn't for the faint of heart, that's for sure. Prepare to be amazed at the crazy famous stars who decided to give it a shot anyway, just like us regular folk. Read on to find out what these uber celebs had to say about their adventures and misadventures on online dating sites and apps below...
15

Ariana Grande

[caption id="" align="alignnone" width="634"]
Instagram[/caption]
In July 2012, Jai and his twin brother, Luke, began a competition to see which one of the Brooks brothers could get Ari's attention. Not only did Jai tweet her, but he made a YouTube video explaining why they should date! #JaiVsLukeForAriana proceeded to trend on Twitter, and pretty soon Ariana's mom, Joan, saw it. As any good mother would, she encouraged Ari to respond. And so Jariana began. Sadly, the pair split after two years in 2014, with Ariana claiming that Jai wasn't there for her when her grandfather passed away: "Ariana just felt he wasn't there like he should have been", said a source. Ariana posted a cryptic tweet at the time, which some interpreted as a dig at Jai: "You learn a lot about love, life & the people around you during a time of crisis. July was painful for many reasons but of all the personal loss I suffered last month, the loss of my grandfather, a true gentleman, was the only one that truly mattered."
14

Amy Schumer
Having met boyfriend Ben Hanisch on dating app Raya, Amy Schumer told Howard Stern recently that the couple were not "in talks" to get married. "He was my first match," she explained. "The picture was him dancing with his grandma at like a wedding. It was really cute." In her book The Girl with The Lower Back Tattoo, Amy described their first meeting: "We smiled at each other and in that moment, everything felt right" she wrote. The pair both posted about their relationship on social media to celebrate their one year anniversary, with Amy writing: "Happy anniversary f***face. #Iwanttoseeotherpeople. A year ago today I met the love of my life.'' alongside a photo of the furniture designer chowing down on a burger. Sadly, they recently split, citing the pressures of Amy's Snatched tour and conflicting schedules as contributing factors.
13

Martha Stewart
You would have thought that a domestic goddess like Martha Stewart would have little trouble luring a man. After all, they say that the way to a man's heart is through his stomach. Martha gave Match.com a shot in 2013, when the Today show helped her set up a profile. The empress of homemaking, who divorced husband Andrew Stewart in 1987, went on dates with two men on the site. Martha's verdict? "They did a really, really nice job of being dates," Stewart said, before noting that she would "absolutely" go on another date with both. It seems that neither date led to anything serious, but we're looking forward to the next sizzling edition of Martha and Snoop Dogg's electric Christmas show together last year. All we can say is that the temperature definitely hotted up in the kitchen, and we're ravenous for more recipes from this perfectly mismatched pair.
12

Hilary Duff
Hilary Duff has been open about the fact that she uses online dating. The actress says that she uses Tinder to line up dates with different guys, despite her busy schedule. "It's true," she said on Valentine in the Morning Monday. "I'm on Tinder. I was sitting with my friends one night at the house and we were joking around. In my life, I have always had really serious boyfriends. I've always met people through work and I have never been on a blind date. What's the worst that could happen?" She added: "the whole process is wildly addicting." And Hilary isn't messing around either when it comes to dating, she says she is "talking to probably about nine guys right now." Asked whether she worries that her fame might create problems, she said: "I think some people know. You only have your first name. Some people don't know. I think some people act like they don't know but they do. And a lot of people are like, 'This is a joke, right?'"
11

Big Sean & Naya Rivera
Speaking of Ariana, her current boyfriend met his ex-fiancee on Twitter too! Rivera said, "I had followed him and he sent me a little message, like, 'I'm a fan.' I tweeted that I followed him, I was trying to get his attention. We went to dinner and the rest is history." Naya claimed that she called off the wedding after she caught Big Sean at home alone with his future girlfriend Ariana! Big Sean responded by publicly dissing Naya in his song "No More Interviews", with the lyric: "And you know the funny thing about it is my ex wanna write a tell-all. F--ked up thing about it is she ain't even tell all." Sean also exposed Naya's cosmetic procedure, after Naya admitted to having gotten her boobs done: "I learned when people lie on you not to return the favor so I won't get you embarrassed," he raps. "I won't tell them all the other parts about you that's plastic." This came after the release of his single, also apparently aimed at Naya: "I Don't F--k With You." Nice.
10

Charlize Theron
A close friend of Chelsea Handler, Charlize Theron is an Oscar winner without a boyfriend. The blonde siren has featured in perfume adverts and started life as a model, but it seems that she hasn't found love. Though Charlize has had long term relationships with Sean Penn and other Hollywood leading men, none of them have stuck. Charlize has also said that whilst she respects the institution of marriage, she has no interest in getting married herself. Coming out in support of gay marriage, which she says is a basic human right, she has also made it clear that she treats her relationships like marriages. Evidently discussing relationships with good friend Chelsea, Charlize recounted recently how Chelsea encouraged her to try dating apps. Charlize was less than overwhelmed by her experience, saying that it felt really "awkward", and that she much prefers good old fashioned matchmaking by friends. So even Charlize has flirted with Tinder.
9

Wiz Khalifa & Amber Rose
Even though their nasty divorce is all their names are associated with now, their initial couple-dom was a modern fairytale. According to Amber, ""Initially we met through twitter" Rose explained in an interview: "He did an interview about me and the guy who interviewed him asked, 'If there was one girl in the world who would you be with?' He said 'Amber Rose.' And then I hit him [up] on Twitter, and I said, 'That's really cute' and we fell in love!" After breaking up and making up several times, it seems that Amber is now dating 21 Savage. After the new couple were spotted out together with Amber and Wiz's son Sebastian, Wiz publicly gave them his blessing: "He's a good guy. He's a good kid—everything I know about him". Although the online romance may not have been forever, it seems that the exes are on good terms and all is well.
8

Chelsea Handler
One of the things we love about Chelsea Handler is that she is totally open. TOTALLY open. We're used to knowing all about the men that she dates from the show. We especially enjoyed the weird and wonderful moment when Chelsea dated rapper 50 Cent. Chelsea's openness about her private life includes being open about using Tinder to pick up men when she is on the road. On one episode of Chelsea's Netflix show, she even interviewed the CEO of Tinder, to offer viewers an insight into the world of online love. Sean Rad said: He said: "You'd be surprised how much people pick up in photos, and how much they pick up about your personality, especially nowadays – think about how many photos we look at with social media every day. Our minds are subconsciously picking up all these different signals." All we know is that Chelsea is a ton of fun.
7

Iggy Azalea & Nick Young

[caption id="" align="alignnone" width="664"]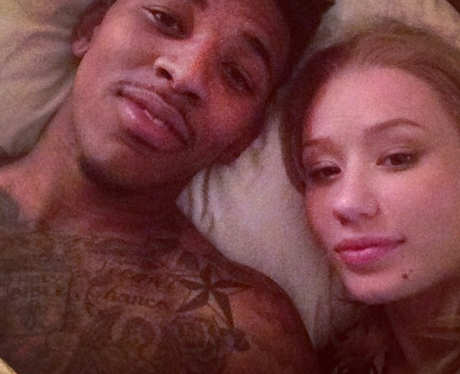 Daily Mail[/caption]
Iggy Azalea met her NBA player boyfriend Nick Young on Twitter as well. She said, "We tweeted a couple of times and then we met up. It's not desperate, it's about admiring." The pair got engaged after seven months of dating in the summer of 2016. But it wasn't long before their acrimonious breakup, which resulted from Nick's affair with his ex Kennona Green during his engagement to Iggy. In the aftermath of the split, Iggy flashed a sign at the camera after being asked whether she had a message for Young and Kennona. Azalea also refuted Keonna's claim - which was published in a recent UsWeekly interview - that she reached out to the rapper when she reconnected with the basketball pro last September, three months after he proposed to Iggy. "No. It's not true," she said as she walked through the airport terminal to catch a flight back to the states.
6

Lindsay Lohan
Despite her astronomical levels of crazy, Lindsay Lohan has dated a who's who of celebrity men. Lohan has dated the likes of Aaron Carter, Wilmer Valderrama and even Samantha Ronson, for instance. You wouldn't have thought that she would have any need for online dating sites. But think again. Lindsay wasn't shy (though arguably she should have been) about making it known that she has a Tinder account. The weird twist in the tale though was that Lohan actually posted about being matched up with her brother, Michael, on Tinder back in 2013. "Look who I just found on @tinderapp ... hey bro," she captioned the shot. As usual when it comes to Lindsay's Tinder, things got pretty weird. Most people would have shied away from sharing both their own and their brother's profile with thousands of followers. This was no problem though for the ever outgoing Lohan, vauge incest vibes and all.
5

Jenny McCarthy
Jenny McCarthy, 43, gave Match.com a shot back in 2011. She wasn't shy about expressing what exactly she was looking for and we respect that! "It's so hard out here. The guys are like chicks here… There's no real guy guys, so maybe importing from somewhere will be smart. Anyone not from LA, I think." Poor Jenny has had some bad luck when it comes to men and relationships. She and John Mallory Asher had a son and then divorced, she later dated Jim Carrey which didn't work out. She found love again — but without the help of a dating site — when she married Donnie Wahlberg in 2014. But it seems that the actresses and models of this world are also finding modern dating something of a mission, a fact that brings the rest of us normal people a little more comfort on those lonely nights! It all ended happily ever after for Jenny.
4

Andy Cohen
Watch What Happens Live host Andy Cohen is a famous dude who has admitted to trying internet dating, and had no shame about announcing that he had a positive experience. Andy said that he was on Tinder in 2015, commenting: "I like it," he said. "It's fun. You know, it's to me: Where am I going to meet an architect who lives in Brooklyn besides Tinder at this point? It's the modern-day singles bar." He is still single and looking for love, but if Tinder continues to treat him as well as it seems to be doing at the moment, who knows, perhaps he will find the one after all. In this flukey online world of matches, you never know when The One is just a swipe away. We're definitely staying tuned to the Andy channel to "Watch What Happens" with his dating life. Get Tindering girls: if this many celebs are on there, Tinder can't be all frogs!
3

Adam Duritz
You would have thought that a man who has dated the likes of Jennifer Aniston, Courteney Cox, and Emmy Rossum would have no need for a Tinder profile. Think again. Even the suave and sophisticated Counting Crows frontman Adam Duritz admitted that he used Tinder. He laughed at the fact that people found him on the site saying, "I don't think most people would even have me on their [age] range," the now 52-year-old said. "Most people my age aren't on [Tinder]. They don't even know how to use a phone." It seems that Adam wasn't destined to find love on the app. What seems the craziest is that the famous people of this world need to use social media to find dates. In a world where everyone knows your name, it can still get lonely, it seems.
2

Deborah Ann Woll
You might have thought that a vampy onscreen siren would have no problems wooing herself a man the old fashioned way, IRL. But True Blood star Deborah Ann Woll actually met her boyfriend, E.J. Scott, on Match.com. "I feel like we should get some money out of this," she said on "Good Day LA" of their relationship, whilst promoting the film franchise in 2012. If it worked for Deborah, we are certainly more inclined to give it a go, so maybe these lovebirds should be getting paid for the advertisement! The True Blood star has opened up recently about her boyfriend's struggle with a degenerative eye condition that will one day leave him blind. But the relationship is still going strong. In fact, it was Scott's condition that helped woo the starlet: "It was a very scary thing and he was so open and positive about it and spoke about his fund-raising and I thought "I could be dating a hero" and how lucky I was. I think I fell in love then." she said.
1

Carrie Ann Inaba
Yet another famous personality who has sought and found love online is the Dancing With The Stars judge Carrie Ann Inaba. Her and her then finacee met on eHarmony. Carrie Ann opened up in an interview about how they were matched: "I said, 'You need to be sexy' [and] 'I love cats.' He was the one they sent me, and it just felt familiar. [Looking at] his picture, I felt like I already knew him." Unfortunately, the engagement was called off in 2012, (presumably after the pair had exhausted the subject of cats). In a return to the more traditional line of dating, Inaba met the actor Rob Derringer IRL, so to speak, and the pair are now happily in a relationship together, no online profiling required. We're just happy that Carrie Ann found happiness, whether she dates on or offline.