Oh, beloved yoga pants. Where would we be without you. In today's world, yoga pants have become more every day wear than jeans ever were or ever will be. Gone are the days of the hot and heavy, ungodly sweat pants with an elastic at the bases – this is the era of spandex. Over the past few years, yoga pants have become insanely popular – they are the present "in" things; the latest style statements. Celebrities love them and so do we. But for the most part, by wearing yoga pants we are hankering after a statement – that we are fit. Or better still – that we most definitely belong to the yoga-practising, casual-spiritual living class.
However, life is not perfect and neither are all the people wearing yoga pants. Some sport these popular casual wear pants a little too tight, others a little too loose – and then there are those who just don't quite have the form to pull them off. And, this last tier, we dare say, also includes some of our darling celebrities. It is not necessarily their fault – because if not anything, these yoga pants seem to be the foolproof recipes for camel toes, thigh chafing and muffin tops! To save themselves from such clumsiness in future, here are 15 celebs who should stop wearing yoga pants pronto!
15

Khloe's Revenge Junk In The Trunk
Even though she has been killing it at the gym, when it comes to the battle of the booties, it is the other Kardashian sister, who wins hands-down. And Khloe, despite being close to achieving desired results, is proving to be quite a disaster especially because of her choice in gym-gear. Her yoga pants fail miserably not only in containing her over-sized bum but also send out warning alerts against everything they are supposed to trumpet! The Keeping Up With The Kardashian star has put her bulging curves on full display in this tight workout attire, which is doing nothing to compliment her shape. In an interview, Khloe was quoted saying: "For the gym, I tend to wear all black, I feel it's easy and… you definitely feel the slimmest in all black." Well, you might want to believe so but it clearly doesn't hold for you, Khloe!
14

Hilary Duff Or Hilary Dull?
Hilary's style has changed after she became a mom and we dare say, mostly it has been for the better. While we are glad that the graphic tees in rioting colours and grunge tie-dyes from her Lizzie McGuire days have taken a backseat, her latest obsession for yoga pants seem to be taking her back to square one. She is often spotted on her trips to yoga class at Manhattan – each time looking more unbecoming than the other. On this particular instance, the A Cinderella Story star had accessorized her platinum blonde hair with a red bandanna and worn it into a ponytail – this teamed with a pair of clingy black leggings, flip-flops and a large brown satchel bag – she had in short, exemplified the recipe for a complete disaster.
13

Dear Ariel Winter; A Tank Top Wouldn't Have Killed Ya
Ariel Winter and her issues with the body go back a long way. She has never been happy with it and neither have we because of her obsession with it. So, when the Modern Family star stepped out in a workout-ready attire – a black sports bra and super-tight yoga pants – complete with her favourite Nike shoes, detailed in neon green, we couldn't help but notice how unbecoming she looked in her choice of clothing. However, in her defence, Winter maintains: "I went through a lot of hate online, so I tried to change myself for a really long time. But people just kept hating me on no matter what I did." Well, how about giving up on yoga pants for starters? May be the world wouldn't be such a rude place after all?
[caption id="" align="alignnone" width="998"]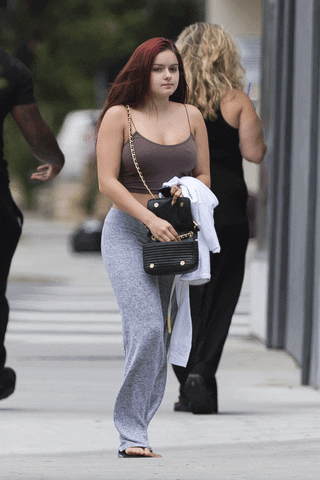 Giphy[/caption]
12

I've Seen Bigger Bumps From Mosquito Bites, Miley
Just because it is a trend, it doesn't mean you have to do it – and someone needs to introduce Miley Cyrus to this possibility. Stepping out of her pilates class in West Hollywood, Miley was spotted in a crop top and yoga pants that did nothing to accentuate the sultry image she has been aiming to portray over the last couple of years. She has made it very clear to the public that her Hannah Montana image is long gone, twerking in her underwear seductively every now and then to drive home the point. However, she has to realise that while most of the time leggings compliment the bottom very nicely, they can only do so when you have a nice derriere to fill them up with! And she clearly doesn't have what it takes to make the most of yoga pants.
[caption id="" align="alignnone" width="1085"]
giphy.com[/caption]
11

No Wonder Blac Chyna Needed Rob To Pay That Post-Baby Surgery
One must remember that even yoga pants have their limits! While they do allow more than an eyeful of Blac Chyna's famously pert posterior – these ones in particular – also appear dangerously on the verge of bursting apart. There's nothing wrong in with a curvy rear, or showing it off for the matter, but this outfit isn't really a winner in any way, shape or form. And, no matter how big her behind appears, this skintight ensemble is far from flattering Blac Chyna's otherwise desirable physique. The translucent fabric has left nothing to the imagination, and we do mean, absolutely nothing! What more, the bottoms look like they are struggling to contain her booty and the obviously-visible granny undies don't do anything to help the cause either.
10

Amber Rose Looks Like She's Walking Around With Two Rear Watermelons
To be fair, she isn't drop dead gorgeous and she isn't talented either but there's no contesting the fact that Amber Rose has a mammoth backside, which might as well be her legitimate claim to fame. And, there is nothing wrong with that, given it's steadily on the rise as a very sought-after quality. In fact, a lot of people wouldn't even shy away from the idea of implants – but not Amber; she is truly gifted! But all said, these yoga pants are just not working for the model-turned-rapper, despite her flattering assets. Far from complimenting her form, the hideous figure-hugging pants have turned her into an eyesore. If Amber really wants her rear to garner more followers, she must at once ditch the idea of wearing yoga pants ever.
9

A Plank Of Wood Is More Appealing, Ariana
Ariana Grande may have come a long way from her Nickelodeon days and starring in kid-friendly shows like Victorious and Sam & Cat but she is yet to master the art of rocking the yoga pants like a pro. Even though she is 21, with her five feet nothing frame, the skin-hugging leggings are hardly of much help to the cause – not to mention the idea of desirable assets by popular standards are also somewhat lacking in her. Now don't get us wrong here, we don't intend to body shame – we are just stating facts as they are. She is still far from shedding off her cute kid image to make it to the list of hot and enticing women.
8

Jumpsuit? Sweatsuit 2-Piece? One Thing Is For Sure; Lady Gaga Is Looking Lumpy
Big is beautiful, but clothing must be chosen cautiously to avoid looking drab – which is clearly what has happened here. Now, Lady Gaga's style has always been outlandish, outrageous and downright crazy – from her meat dresses to stilt shoes, she is known for sporting bizarre costume gears. But even after considering her wild and out of the box inclinations, we can't stop thinking about what might have prompted this disaster. Not only is she wearing heels, she is also wearing a suit-cum-yoga pants fit for a visit to the nearby mall. To be fair, of late she has shown a certain level of tastefulness in her sense of dressing even while maintaining her good old flamboyant image, but this pick sort of ruins it all!
7

Sorry, Oprah, Flared Pants & Grandma Sneakers Are OUT
This media mogul has a certain soft spot for Lululemon pants and thinks that they make her look good – so much so that if she had her way, Oprah would have everyone follow her cue. "I've got to tell you, anything that cuts your butt in half should be your favourite thing too," she once said in her famous chat-show. If only, someone told her the truth – the truth about how revolting and unsightly yoga pants actually look on her. But Oprah doesn't seem too distant from this reality either because she was said in an interview: "I'm mad at myself. I'm embarrassed. I can't believe that after all these years, all the things I know how to do, I'm still talking about my weight," adding, "I look at my thinner self and think, 'How did I let this happen?'"
6

Anne Hathaway, Please Keep AWAY From Those Pants
Okay, now this is embarrassing. We do love the blue hue on her and the sunglasses – not to mention her hourglass frame – but honestly, we are not great fans of peeping camel toes, even when it comes to Anne Hathaway. The Princess Diaries star has always been the epitome of perfection – the one who can never go wrong. But sadly, such is not the case as we can see in this epic yoga pants fail. Anne, who is much better than a lot of the tinsel town stars when it comes to poise, too is susceptible to the occasional camel toe. As she stepped out red-faced from a Los Angeles dance studio, the actress not only showed how toned she is in those very, very tight leggings but also gave away more than she intended to, leaving little to the imagination.
5

Seen: Ashley Olsen In Smurf Mode
Here's one thing about yoga pants that everybody needs to know – it is not supposed to make you look like this! And what's worse? When you see an actress-turned-fashion designer stepping out like this! Ashley Fuller Olsen is supposed to be the smarter of the two twins (the other being Mary Kate Olsen) – the one who is doing well in the world, the one who didn't struggle with anorexia – but at this rate, we are having serious doubts. Ashley, of all people – given she has keen interest in fashion – should have known better than to be seen pairing yoga pants with such an unattractive shapeless top, which far from highlighting her figure, is making her look like a shrivelled-up sack.
4

Russel Brand's Male Version Of Yogi Swag Gone Wrong
Who would have thought break-ups could do this to people? Russell Brand seemed to have had a tough time dealing with his spilt to singer Katy Perry, but dressing up like this is no excuse for a bad break-up. A rug, leg warmers, white yoga pants, flip-flops, a cashmere sweater on his arm and sunglasses? That is too much to absorb! What was he even thinking? We know Brand isn't afraid to be himself and we also know about his undying love for yoga and we have nothing against that, but he would sure do the world a lot of good if he just promises to check himself from time to time. For the matter, giving up on yoga pants once and for all would be a great start in the right direction. We do hope Brand is listening.
3

Seriously, Paris? Look In A Mirror Before You Leave The House
One of the most horrifying aspects of the yoga pants trend is probably finding out who steps out without underwear – and Paris Hilton seems to have just confirmed the fact. These sheer leggings that Paris chose to step out in, have not only been pushed to their limits but they also kind of reveal a bit too much for the comfort of our eyes. While a lot of men may find the idea of the hotel baroness's prying bum appealing, we are not too happy to see these sheer yoga pants revealing what ought to be essentially private – after all, it does put the question of their reliability in perspective, doesn't it? Also, we can't help but wonder why Paris was practising yoga without underwear? That too in Louboutin high heels?
2

Mickey Rourke Packs A Itty Bitty Lime
The 64-year-old retired boxer and actor used to be quite cute back in the day but he has had some ups and downs with his appearance – and, err… his sense of dressing, as is evident from this photograph. Mickey has not been much into acting lately, keeping away from the limelight but that however, does not excuse this riot of an attire he chose to flaunt for a gym session. He was photographed wearing this neon green pair of yoga pants after a workout session at the Equinox gym in West Hollywood. Our hearts go out to the shutterbugs who stood witness to this spectacle that left absolutely nothing to the imagination – to all our utmost horrors! No wonder he is having such a tough time reviving his career.
1

Please Tell Us This Was To Show Support For Breast Cancer Or Something, Shia
You have to give it to the man for his guts. When Shia LaBeouf was spotted running around Los Angeles wearing hot pink leggings, the world did a double take. But then, the man bent over to give the shutterbugs a perfect rear end pose and that's when reality struck. "Ellen for the Cure" was written in bold across his butt, proving Shia to be a man of his words. On a chat show hosted by Ellen DeGeneres, the entertainer had promised Shia that if he wore the hot pink pants she gave him in public, Ulta Beauty would donate $10,000 to breast cancer research. And so he did. The star sported an unkempt look, pairing his sassy running tights with a black T-shirt and a black baseball cap. All said, we do heart the cause, but this blot on the landscape was not what we had signed up for!
Sources: YouTube.com, Mirror.co.uk, People.com, RadarOnline.com